Restorative Yoga + Massage
Restorative Yoga + Massage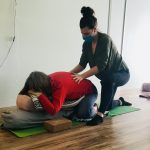 Friday, March 4 (1-2:30 p.m.)
Wednesday, March 23 (4-5:30 p.m.)
This 90-minute class combines yoga poses with massage to restore body, mind and spirit into a healthy, relaxed state. The class will incorporate breathing exercises and simple meditation practices followed by restorative yoga poses using a variety of props to ease you into greater relaxation. During the class, you will receive a gentle-pressure massage from massage therapist
Alisha Jones
.
Yoga Escape Studio
1225 Cross St. SE
$60 per person per class
Were are limiting each class to 5 participants, so be sure to register early to reserve your space.
Once you purchase your space for class. Login into your "Punchpass" and reserve your space for class.
If new to our system "PunchPass" Please click here to register and create a login to reserve your space today. Link to create login will be located at the top of the page, near Note.