Ignite Your Root Chakra – yoga retreat
Ignite Your Root Chakra at our two-day, mid-spring, women-only yoga retreat, Friday, April 24 at 3:30 – 8 p.m. and Saturday, April 25 at 8:30 a.m. – 4 p.m.
This is Yoga Escape's first-ever in-house retreat, and we have designed it to allow you to fully immerse yourself in two days of focus on your root chakra.
Your root chakra is at the base of your spine and is associated with safety, groundedness and interconnectedness.  When it is open, you feel secure, stable, and empowered.
During this retreat, we will work together to guide your mind and body into alignment, allowing you to feel clear, calm and in harmony with your authentic self while engaging in healing fellowship with other women.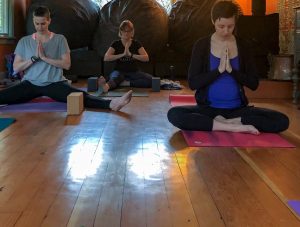 The retreat includes:
 Three yoga sessions — Ignite your Root Chakra, Energizing Flow, and Relaxing yoga.
 A personalized tank top. CreativiTee from downtown Salem will be joining us for this portion of the retreat. Roanna (owner and designer) will be here with tank tops, design supplies, and her expertise to help us all create our own one-of-a-kind tank tops we can wear that day!
A henna artist. Julie Brady will adorn you with temporary body art. Choose from one of her favorite creations or design your own.
Meditations.
Yoga goodies. Each guest will receive a bag of fun yoga-related swag.
Healthy Vegetarian meals. 

Friday evening will include yummy yogi charcuterie board of delight.
Saturday afternoon will include building your own nourishing bowl.

Nutrition talk on supporting your root chakra. Rachel Wood with REALest Health will do a 25-minute talk on what food choices you can make to boost your root chakra.
A space for relaxation. Bring a book or a journal.
You are also encouraged to spend time between sessions roaming Bush Park.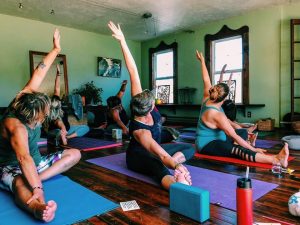 SCHEDULE
Friday
Arrive at 3:30 p.m.
4-5:30 p.m. — Yoga
6-8 p.m. — Customize your I AM tank.
Saturday
Arrive at 8:30 a.m.
9-11 a.m. — Yoga & meditation
11 a.m.-2:30 p.m. — Food, Henna, Nutrition talk and relaxation.
2:30-4 p.m. — Closing with Yoga and Meditation
The total cost for this retreat is $199.  Deadline to sign up is March 27. Space is limited to 12 people, so make sure to reserve your spot now.
[wpecpp name="Ignite Root Chakra" price="
"]