Cheerful Yoga at CreativiTEE
SPECIAL HOLIDAY CLASS
Join us Tuesday, December 20 for Cheerful Yoga at CreativiTEE + rofe designs, as we celebrate the holidays with a one-hour class in vibrant downtown Salem.
The class includes this yoga Christmas tank — created by Roanna specifically for our class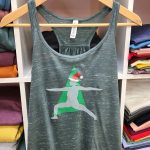 — and a private shopping experience after class with wine and a special attendee discount.
We encourage you to dress for the occasion, and the tanks will be available before class, too!
Space is extremely limited, so sign up soon. Click here to register.
Cheerful Yoga at CreativiTee
110 Commercial St. NE
Tuesday, December 20
6 p.m.
$42 (includes class plus cheerful tank and wine)