Spooky Yoga at CreativiTEE
SPECIAL HALLOWEEN CLASS
Join us Sunday, Oct. 31, as we celebrate Halloween with a one-hour class at CreativiTee + rofe designs downtown.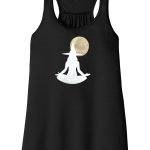 The class includes this yoga witch tank, created by Roanna specifically for our class, and afterward you will get to shop at CreativiTEE + rofe designs, while sipping coffee and eating BigWig Donuts (gluten free, vegan and non GMO).
We encourage you to dress for the occasion, and the tanks will be available before class, too!
DISCOUNT!!!! Signup today (Oct 26) thru day of event $17 (This price includes class plus treats. Witch tank excluded.) [wpecpp name="
" price="17.00″] Once you purchase your space for class. If new to our system "PunchPass" Please click here to register and create a login to reserve your space today. Link to create login will be located at the top of the page, near Note.
Spooky Yoga at CreativiTee
110 Commercial St. NE
Sunday, October 31
11 a.m.
$42 (includes class plus spooky tank and treats)
[wpecpp name="
" price="42.00″]Please leave size of tank when you make purchase. Size Options: XS, Small, medium, Large, XL, 2XL